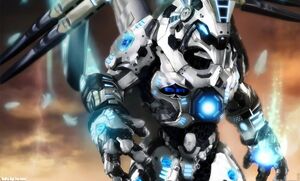 "
The failure of my brethern weighs on my shoulders...
"
- Erokh, one of the Atlases.
The Y-Atlas(-03) is the strongest unit in the Yorkhnuum military.
The creation of the Atlas took several centuries, the Yorkhnuum scientists wanted it to be perfect in almost any angle and constantly made small tweaks and adjustments to do this. Now this is the strongest unit in the Yorkhnuum military and all of them together lead the Yorkhnuum as a whole.
Appearance
Edit
The Y-Atlas has a white coloured plating with blue lights all over it's body. It's hands are 3-fingered and it's feet have 2 thick toes.
Known Atlases
Edit
Ad blocker interference detected!
Wikia is a free-to-use site that makes money from advertising. We have a modified experience for viewers using ad blockers

Wikia is not accessible if you've made further modifications. Remove the custom ad blocker rule(s) and the page will load as expected.