Wazelian



Homeworld:

Diet:

Meat

Height:

5 feet on average

IV

Intelligence:

Sapient
The Wazelians are the only native sapient race on the planet
Wazel
.
Physiology
Edit
Appearance
Edit
Wazelians strongly resemble humanoid stoats, with brown backs and white underbellies.
Females reach sexual maturity at the age of fourteen, and the males at seventeen. They become elderly and weak by the age of fifty.
Wazelians typically feed on small animals, although some larger animals are raised for butchery. Most plants make Wazelians ill if ingested.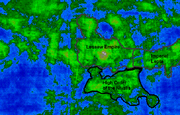 Wazelians are currently divided into several different nations, each with it's own unique culture and traditions. However, due to the basic nature of the species, each of these nations is aggressive and at war with one or more of the others. The three main nations of Wazel are:
There is also an international criminal organisation named the Bones of Bronze.
Technology
Edit
All Wazelian nations are currently at Technological Class IV, giving them a medieval sophistication.
The first anatomically modern Wazelians evolved around 3.97 AM. See individual civilization pages for further history.
Ad blocker interference detected!
Wikia is a free-to-use site that makes money from advertising. We have a modified experience for viewers using ad blockers

Wikia is not accessible if you've made further modifications. Remove the custom ad blocker rule(s) and the page will load as expected.