Swamp Rat



Homworld:

Diet:

Various bugs and plants

Habitat:

Coastal Swamps.

Creator:
Swamp rats (Aquarattus amphibius), are, despite their misleading name, a type of salamander that inhabits coastal swamps on Ishtar.
Description
Edit
Swamp rats resemble stocky salamanders, with long rat-like tails.
They are carnivores, preying on small fish and other vertebrates. Swamp rats locate their prey by hearing and sight, although primarily hearing.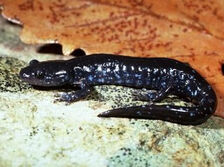 Once a year, swamp rats begin to search for members of the opposite sex with which to mate. Males often become involved in violent fights over the right to mate.
Conservation
Edit
This species went extinct during the formation of the Deserta Vasta.
The Swamp Rat was the first creature ever to be created on this wiki.
Ad blocker interference detected!
Wikia is a free-to-use site that makes money from advertising. We have a modified experience for viewers using ad blockers

Wikia is not accessible if you've made further modifications. Remove the custom ad blocker rule(s) and the page will load as expected.