Sloethan
[[File:|200pxpx]]


Homeworld:

Height:

10 feet

Diet:

Plants

Social Unit:

Herd

Creator:
Sloethan are large avian herbivores that live on the planet
Nevermore
.
Appearance
Edit
Sloethan resemble the giant ground sloths that once lived on Earth. However, they are quite a bit smaller, only around the size of a cow. They have long claws which they use to defend themselves against predators such as Aventors, or to pull down tree branches.
Sloethan use their claws to pull large branches down from trees, and to hold them while they eat the succulent leaves. During the winter months of the year, they will eat Evergreen Grass.
Behaviour
Edit
Sloethan live in small herds led by a matriarch.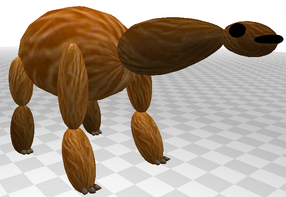 Ad blocker interference detected!
Wikia is a free-to-use site that makes money from advertising. We have a modified experience for viewers using ad blockers

Wikia is not accessible if you've made further modifications. Remove the custom ad blocker rule(s) and the page will load as expected.