Skraygith



Planet

Petaurista (introduced onto Novus)

Height

3 meters

Weight

?

Social Unit

Gregarious, but prefers pack hunting

Habitat

Mountains and wastelands

Diet

Carnivorous

Intelligence

Low

TBD

Creator

Styracosaurus Rider
"
Bloody birds.
"
- The general Atrenid view on skraygith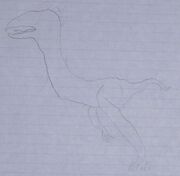 Skraygith are bird-like predators native to
Petaurista
. They have been introduced onto an island on
Novus
.
Description
Edit
Skraygith are around 3 meters tall, and are bipedal. At first they look like a twisted image of a bird, with a beak-like mouth and stubby, vestigial wings, but a closer look proves otherwise. They are eyeless, using their senses of hearing and smell to detect prey.
Skraygith are strictly carnivorous. They will eat most anything they can detect, and have a particular taste for Atrenids. This does not happen very often anymore as the Atrenids have developed weapons against them.
In fiction
Edit
Ad blocker interference detected!
Wikia is a free-to-use site that makes money from advertising. We have a modified experience for viewers using ad blockers

Wikia is not accessible if you've made further modifications. Remove the custom ad blocker rule(s) and the page will load as expected.