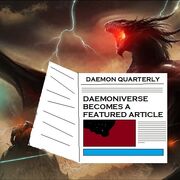 Here at the Multiverses Wiki, we strive to make the most detailed, informative articles possible. And each month, we showcase three articles (in three/four categories) that are in tip-top shape.
If you wish to vote for an article that has not been voted for yet, simply create a Level 3 heading of the article's name, and say why you think it should be featured. Remember to sign your name with four ~~~~.
If an article has already been nominated, you can either support or oppose the choice.
Example (for Hectocapitus)--
Hectocapitus should be featured because the article is pretty well-written, and it has useful features in it like the quote and infobox. Styracosaurus Rider (Speak to the Rider!) 15:41, August 12, 2011 (UTC)
I don't think so. The article should be expanded before we feature it. I think the Equipment and Seven should be paid attention to in particular. Styracosaurus Rider (Speak to the Rider!) 15:41, August 12, 2011 (UTC)
Nominations for next month
Edit
Each user gets three votes, with which you should choose a story, an animal, and a planet.
April 2012 Featured Articles
Edit
---
Previously featured articles
Edit
(by popular request)
(August 2011)
(September 2011)
(December 2011)
Featured image nominations
Edit
Images chosen must be copyright-free.
Previously featured images
Edit

Ad blocker interference detected!
Wikia is a free-to-use site that makes money from advertising. We have a modified experience for viewers using ad blockers

Wikia is not accessible if you've made further modifications. Remove the custom ad blocker rule(s) and the page will load as expected.