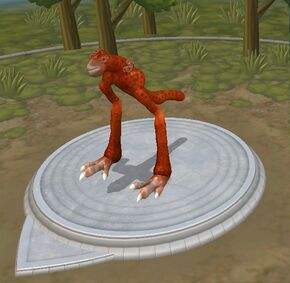 Kukrdis are the more common form of
Kachik
on
Voricia
. They have no eyesight.
Physiology
Edit
Kurkdis, being duocrurian, have two legs. These are heavily muscled, and aid them in running, despite the heavy gravity. Their senses are not well developed, and they have no eyes. Their only senses are ones which aid them in moving, which are the ability to feel and 'taste' the air for food and water.
They are carnivorous and lithotrophic, able to get nutrients from both hunted animals and rocks. They eat mainly small Hecbir, relying on their nutritious muscles and fat to get plenty of calories. Since they are lithotrophic, they can also eat the silicaceous-calcaceous skeleton of its prey, giving them minerals which are usually scarce in their environment. They get the iron they need from the sands of its desert.
With EQ's of only 1.02, Kukrdis are rather unintelligent. They have low levels of thinking, and barely process information. Relying solely on their instincts, they simply follow genetic memory.
Kurkdis use a central, 3-chambered heart to pump blood around their body. This is held inside of their chest, where its blood is oxygenated by one lung. This is fed by spiracles on its face and body.
The most notable differences between other Kachik is their bright color and facial structure. Their color allows them to blend in during sunset, when they are most active. Their face is like that due to many generations of having to crunch bone mass, so they have more compact muscles to crack them.
Behaviour
Edit
Kukrdis live in small groups of 6-10, with two family groups. These groups act with the older family unit being superior, and getting the first bites of the kill. The families emerging from the dead family group becomes the less powerful group, and some not able to create their own go off and create their own units.
Ad blocker interference detected!
Wikia is a free-to-use site that makes money from advertising. We have a modified experience for viewers using ad blockers

Wikia is not accessible if you've made further modifications. Remove the custom ad blocker rule(s) and the page will load as expected.