Helmet Bird
[[File:|200pxpx]]
Two females grazing

Homeworld:

Diet:

Plants

Habitat:

Forest

Size:

10 feet tall

Social Unit:

Loose flock

Intelligence:

Low

Ancestor:

Creator:
Helmet Birds are large, avian herbivores native to
Futurazoic
. They evolved from the small songbirds that existed during the Human Era, more specificly, the
Tufted Titmouse
.
Evolution
Edit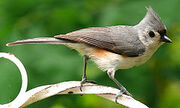 The Helmet Bird evolved from the Tufted Titmouse.
Physiology
Edit
Appearance
Edit
These are large, stocky bipeds, adapted to life in the semi-polar forests of North America. Both males and females have headcrests, although those of the males are much more noticable.
Behaviour
Edit
Helmet Birds live in loose flocks containing up to fifty individuals.
Ad blocker interference detected!
Wikia is a free-to-use site that makes money from advertising. We have a modified experience for viewers using ad blockers

Wikia is not accessible if you've made further modifications. Remove the custom ad blocker rule(s) and the page will load as expected.