Genesis Project
Edit
Welcome to the Genesis Project! Here, all users (yes, including newcomers!) may compete to create a planet. InfiniteCreator will judge the next contest on October 1st. All users should submit their contributions by that date.
All users are allowed to compete. Simply create a planet (using the
GetStarted
page for guidance), and then populate the world with alien lifeforms. The winner will be awarded with this medal: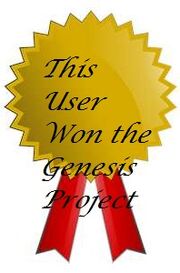 Space-faring races are not allowed, but less sophisticated races are.
ON INDEFINITE HIATUS
Previous Contests
Edit
June 2011
Edit
Judged July 1st.
The ultimate winner of the June 2011 Genesis Project contest is Cthonia, made by user:Holbenilord. Congratulations!
Why, you may ask? Obviously, Cthonia stood out as the most detailed and creative planet of all. And detail matters a lot here on the Multiverses Wiki. To everyone else, thank you for participating, maybe you'll win next time!